Inspection activities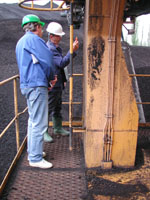 Inspection activities include:
supervision of work performed during the process of surface treatment on sites and at workshops
controlling activities, which certify prescribed quality parameters of surface treatment during the acceptance of products
review of defects of corrosion measures during the technical life of constructions and equipment
Usually, the inspection supervision is provided during activities of a larger scale, i.e. during the performance of surface treatment of steel constructions on bridges, buildings, equipment in chemical and petrochemical industry, power engineering, transportation, etc.
The inspection activities are performed by SVÚOM Ltd. staff according to EN V 12387 Paint and varnishes - Qualification of inspectors for corrosion protection of steel structures by protective paint systems.
The inspector of surface treatment is usually ordered by the investor in order for the inspector to apply appropriate demands on the quality of work performed. It is very appropriate to invite an inspection organization for a consultation already in the early phase of a degree of completion of project or construction documentation. Before the initiation of surface treatment of a given proportion, the inspector should put forward a precise technological procedure to the customer, which after its confirmation should be the basic guide for controlling activities. This technological procedure should be consulted with an inspector ahead and adjusted according to appropriate valid European and international standards. The inspection organization should put forward a controlling activity plan, which should be confirmed, i.e. separate controlling operations, the number and placement of testings (measurements), an acceptable evaluation of results, a list of used measuring equipment, controlling area and a method of handing over results by the inspection.
An essential requirement of an inspection organization is to grant specific authorities so that it could apply an instant rectification or the halt of work, if necessary.