Measurement of pollution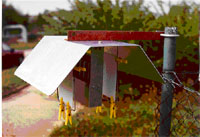 A method of passive sampling (see picture on the right) with an easy operation and sufficient accuracy for the evaluation of sources of atmosphere pollution in a given region is used for the monitoring of air pollution by sulfur oxides and nitrogen oxides. A special flask placed in the outer environment is used for the determination of dust particles in the atmosphere. A gravimetric method is used for the detection of total dust-fall and the content of organic particles is given as "loss due to annealing".
Given methods for SO2 and NO2 are appropriate for the monitoring of long-term trends in air pollution, newly operating sources, and also for the efficiency of measures for the reduction of immission stress on the atmosphere. Seasonal influences on the values of pollution are clear from the results. During the winter months, measured concentrations of SO2 and NOx were significantly higher than in the summer months. This results can be used for the determination of atmosphere-aggressive action and its impact on corrosion. By placing a certain location to a specific category, an anti-corrosion protection of products and constructions can be proposed.
An example of long-term course of the concentration of air pollution in Prague Holesovice in the period 2006-2009: